Less than two months and counting. On April 8, 2014, Microsoft will end support for the decade-old Windows XP. This means you will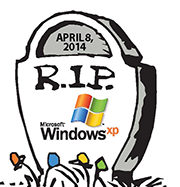 no longer receive updates, including security updates, for Windows XP from Microsoft. Support of Microsoft Office 2003 will also be ending on the same date.
So what does this mean to you and your business?
Security Risks – Without critical Windows XP security updates, your PC may become vulnerable to harmful viruses, spyware, and other malicious software which can steal or damage your company data. Other software, such as anti-virus, will not be able to fully protect you once Windows XP is no longer supported.
Software Issues – Many software and hardware vendors will no longer support their products that are running on Windows XP. This can impact you if you use older printers (print drivers will no longer be supported), you use proprietary software and you are using an old version (your vendor might use this to leverage you to upgrade), etc.
No Support – When you have an issue with your Windows XP machine you will have no one to call. Support will not be offered. For example, if you have a minor hardware issue and need to reload your PC you will not be able to do so because your key will no longer validate.
Most companies that are running Windows XP still are running it on older equipment that needs to be upgraded, so this isn't necessarily a bad thing. It's been a great run with Windows XP, but it's time to move on!
If you have any questions about upgrading please don't hesitate to use the BITS team as your trusted adviser.