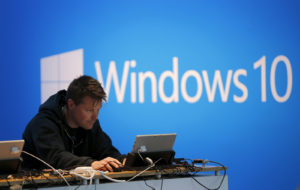 If Microsoft's upgrade notifications weren't enough to compel you to install Windows 10, then maybe a deadline is. After July 29th Windows 10 will no longer be a free. Microsoft has told us that the upgrade would only be free for a year and believe it or not, the year is up!
With the year anniversary of Windows 10 right around the corner, the company revealed the features coming out and they include advanced gestures, new Cortana commands and the merged version of the Windows/Xbox One app stores. So if you haven't upgraded to Windows 10 what are you waiting for?!
As always, before any upgrade make sure that your hardware specs meet the requirements to run Windows 10.v We've listed some below from Microsoft's site but please make sure you consult a professional if you have questions:
Windows 10 Home users will receive updates from Windows Update automatically when it's available. Windows 10 Pro and Windows 10 Enterprise users will have the ability to postpone updates. The amount of time that Windows 10 Pro users can postpone updates is limited.
Small storage devices, like devices with 32GB hard drives or older devices with full hard drives, may need additional storage to complete the upgrade. You'll see instructions during the upgrade telling you what to do. You may need to either remove unneeded files from your device, or insert a USB flash drive to complete the upgrade.
Some devices with either little free space available or smaller hard drives, like 32 GB storage PCs, may have little free space available after upgrading. You may free up disk space and easily delete files like temporary files or your previous version of Windows within the Storage system setting. Files for the previous version of Windows give you the option to remove Windows 10 and go back to your previous version of Windows. These files are automatically deleted a month after you upgrade. To free up space, you can delete them now.
If your PC or tablet is currently running Windows 7 SP1 or Windows 8.1 Update, you can check to see if it meets the requirements by using 'Check my PC' in the Get Windows 10 app. To open the Get Windows 10 app, click on the small Windows icon found at the right end of the taskbar. If you don't see it, visit our Windows 10 Q&A page for more info.
Many applications, files, and settings will migrate as part of the upgrade. However, some applications or settings may not migrate.
For anti-malware applications, Windows will check to see if your anti-malware subscription is current (not expired) and compatible during the upgrade.
If your anti-malware subscription is not current (expired), Windows will uninstall your application and enable Windows Defender.
Some applications that came from your OEM may be removed prior to upgrade.
For certain third party applications, the "Get Windows 10" app will scan for application compatibility. If there is a known issue that will prevent the upgrade, you will be notified of the list of applications with known issues. You can choose to accept and the applications will be removed from the system prior to upgrade. Please be sure to copy the list before you accept the removal of the application.
Microsoft Family Safety child users with local accounts (accounts tied to the machine) will not have their safety settings migrated to Windows 10 during the upgrade. This means that after the upgrade to Windows 10 is complete, parents would need to setup safety settings for the child user along with a Microsoft account if they do not have one. To find out more about the changes, visit the FAQ page.
Some apps and content sold separately. Feature and app availability and experience may vary by device and market.