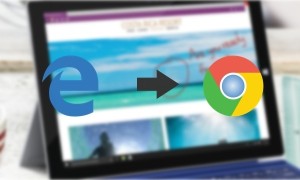 If you're like the many people that got tired of the Windows 10 Free upgrade popping up, then you finally took the plunge and installed Windows 10.
Windows 10 has many great features and a sleek new modern design. But as with all new software it tends to change things in the upgrade process.
I found that it changed my default browser from Chrome to Edge. Although I like the Edge browser for some things I don't want it as my default, so I changed it. If this is a problem you experience when upgrading just follow these simple instructions below to change your default browser.
How to change default browser on Windows 10
It doesn't matter which version of Windows you upgrade from, the way you change defaults is different in Windows 10.
1. Click Start Menu > Settings:
2. Click the 'System' tile:
3. Select 'Default Apps' from the left-hand column:
4. Scroll down to the section headed 'Web browser' and click on the icon underneath (it will either read 'Microsoft Edge').
5. Select Google Chrome from the list that appears.
Next time you click on a web-link in another app, for example on Twitter or in an e-mail, the resulting web-page will open in Google Chrome and not Microsoft Edge.
You can still continue to use Microsoft Edge; this process does not delete it. If you ever want to go back to using Edge as default just repeat the steps listed above but, in step 5, choose 'Edge' instead of 'Google Chrome'.